Meet the winners of the ECCE App Challenge 2019
This year we held the fifth annual ECCE App Challenge, which has proven to be another great success. We had another a record turnout, with 24 teams participating from all 11 ECCE schools across Canada. The teams participating in the challenge this year were all tasked to create an app that addresses issues related to either Sustainable Urban Development or Sustainable Communities.
Each team created their app along with documentation that included a team mission statement, an overview of the app's characteristics, and a video presentation – all within a one-week period. You can view each team's profile with links to their documentation, video presentations, and live versions their apps hosted online from the ECCE web page on GitHub.
After all of the teams had completed their projects by April 5th, their work was reviewed by three external judges, who evaluated each based on the criteria outlined for the app challenge. We are now pleased to announce the final results of this challenge…
---
Winners:
SpectaculAR from the University of Waterloo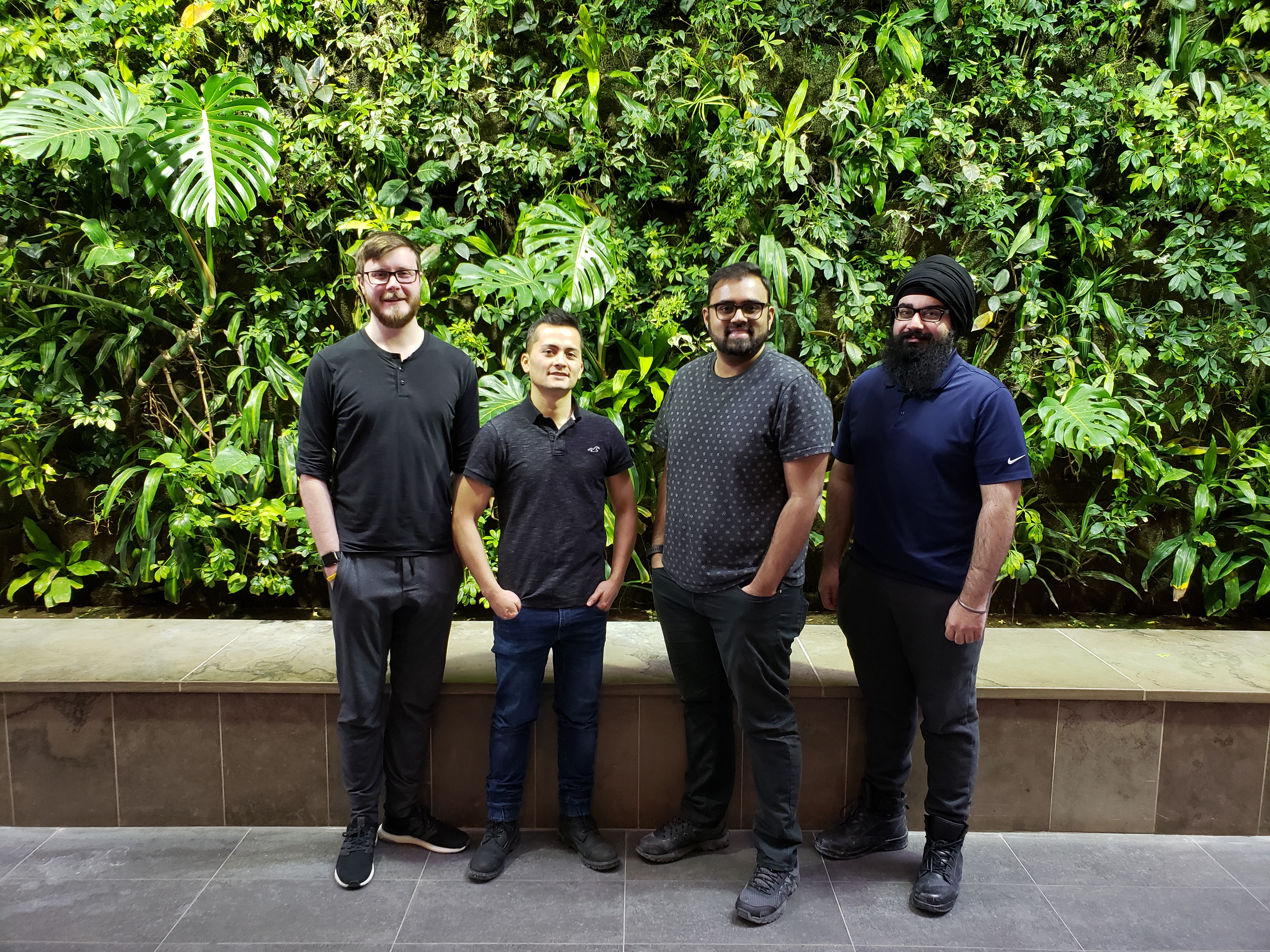 Congratulations go to all four members of this team, Jaydeep Mistry, Juan Carrillo, Fraser King, and Manpreet Singh Chahal. With two members from runners-up teams over the past two years, this team used the AR/VR beta version of Esri's ArcGIS Runtime SDK for Android to build a native mobile app that enables users to visualize and interact with 3D scenes showing proposed development plans, using Sidewalk Toronto as a sample case study. The app uses the AR/VR capabilities of the beta Runtime SDK to provide users with an immersive 3D view of development plans, in addition to embedded web views that provide a more conventional UI to visualize and navigate 3D scenes hosted in ArcGIS Online. A survey interface for collecting community feedback is also provided in the app, the results of which are displayed in an embedded with of an Operations Dashboard. The members of the winning team will be awarded an expenses-paid trip to this year's Esri User Conference in San Diego!
---
First runner-up:
GISquad from McMaster University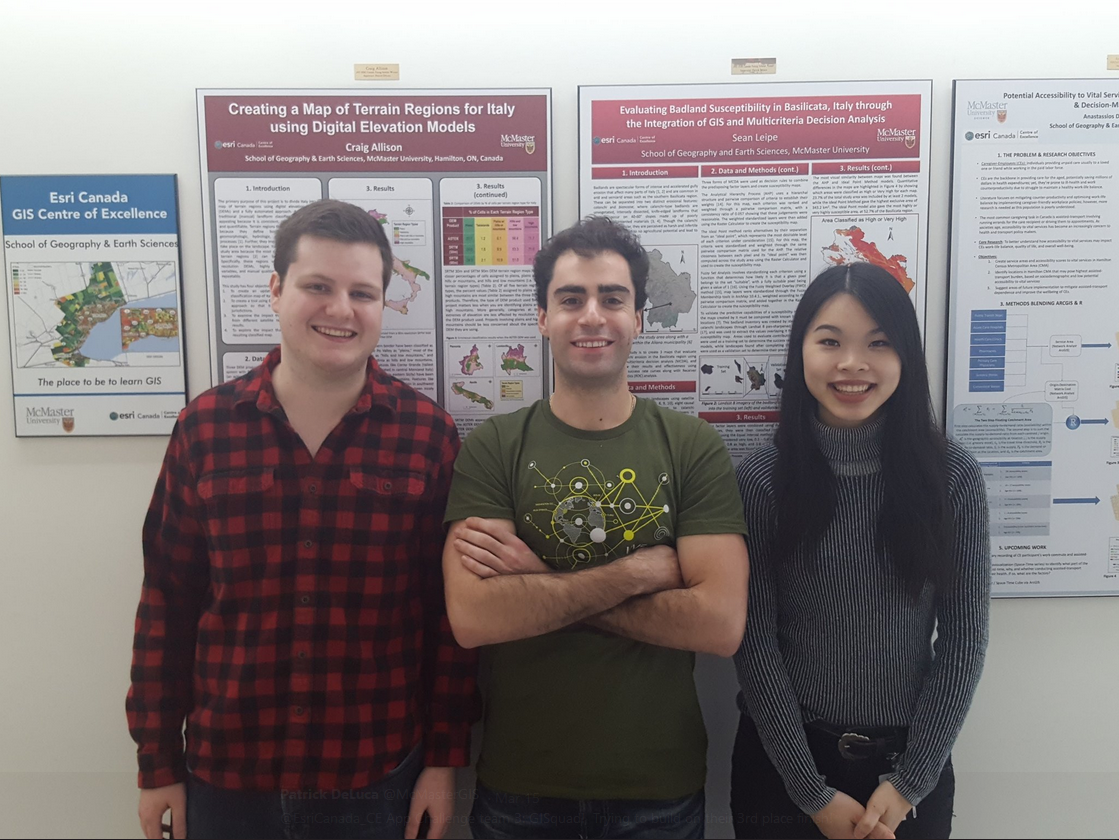 Matthew Brown, Michele Tsang, and Anastassios Dardas (featuring returning members of runner-up teams from 2017 and 2018) built their web application using a custom Bootstrap theme for the main webpage that presents their project, and used the Calcite Maps Bootstrap theme with the ArcGIS API for JavaScript to build the interface for their custom web mapping application. Their application provides users with access to statics at neighbourhood and building levels, and a calculator for estimating number of years to achieve a return on investment from upgrades to more efficient and environmentally friendly building characteristics (e.g., energy savings from LED lighting, or CO2 absorbed by rooftop trees).
---
Second runner-up:
Baes of Fundy from the Centre of Geographic Sciences, NSCC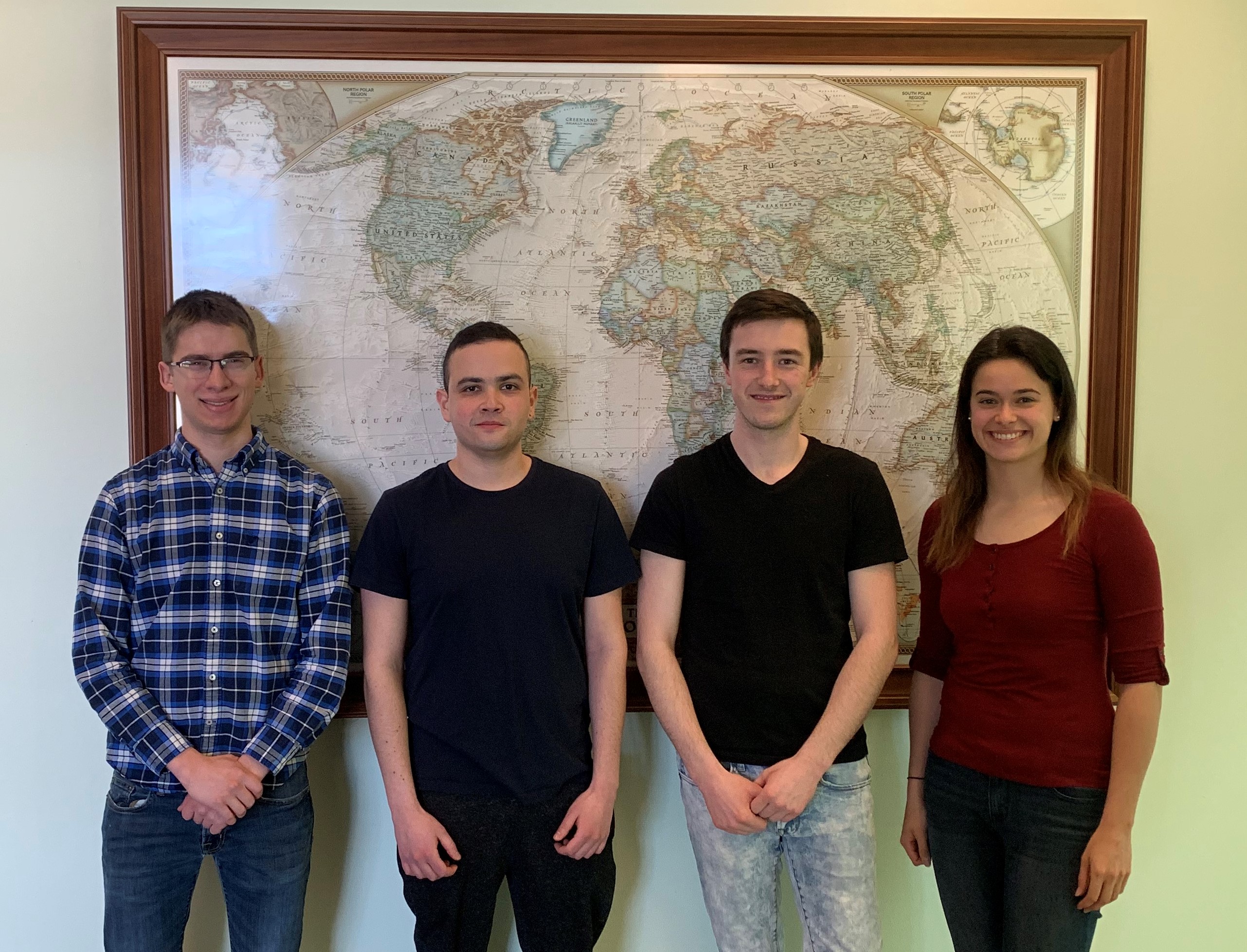 Liam Gowan, Dani Kogan, Kaleb McNeil, and Andrea Zagar created their application using the developer edition of Web AppBuilder for ArcGIS. By customizing some of the code for the widgets that come with Web AppBuilder, this team created a unique app that provides users with metrics to evaluate the quality of green spaces in their community within Halifax, and provides information on green space facilities within a user-defined radius. The aim of the app is to give users an indication of their community's overall sustainability.
---
Details and demos for all 24 teams can be viewed from our GitHub account. All of the projects created by these teams exemplify many different components the ArcGIS platform that can be used to build unique and innovative applications. We can find among the 24 projects a number of custom-built web applications that use the ArcGIS API for JavaScript, several customized apps built using the developer edition of Web AppBuilder for ArcGIS, as well as examples of applications built using configured Web AppBuilder apps hosted in ArcGIS Online, Operations Dashboards, and Esri Storymap templates.
All of these projects are the results of the efforts by the many excellent students at our ECCEs, each completed within one week!
Special thanks go to all of the students at each ECCE that participated in the challenge, and the directors at each school for helping to facilitate and support their students.
Check the ECCE blog for stories shared by members of this years teams about their experience working together on their projects. A number of articles have already been posted by some of the teams: GeoPanda (COGS), GISquad (McMaster), SpectaculAR (UW), McMapsters (McMaster), The Four Mapsketeers (UCalgary).
We look forward to another App Challenge in 2020, and hope to see many of these students returning to compete again next year!
---